Lucky Draw
From Stardrift Empires Wiki
Lucky Draw provides various bonus items to players based on their RSP level. Every day that a user logs in to the game they are awarded a token for one lucky draw spin. Additional tokens may be purchased for 8,000 credits per token.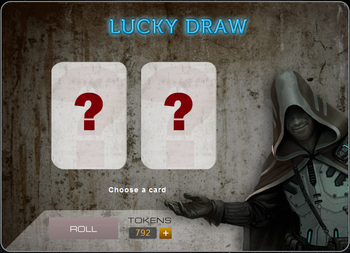 When using either the "Normal animation and selection" or "No selection animation" the player will be presented with two items from the board, one hidden under each card. The player will then be able to select a card to receive his prize. When using the "Automatically selects a card for you" the prize is automatically selected from the board.

Once an item is won it can be used from the item screen.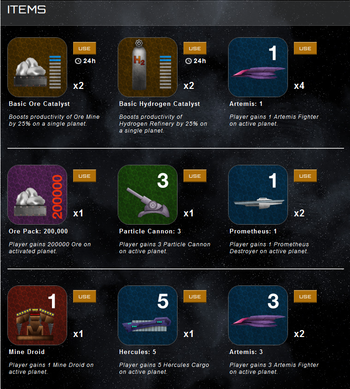 Time of Effect
It is a universal rule that once something is started (completion bar active), it cannot be sped up. Items that affect time (speed boosts) do not take effect until the next launch. Items that affect performance in battle, however, can be activated immediately before the battle and still have their effect.
Drive boosts only affect ship travel times; they do not affect what ships can be built.
The Recycler Magnus can be initiated just before pick-up because the amount of debris loaded is not "locked in" until that point. This is due to the fact that it could all be snagged by another player at any time before your arrival. It is a good idea to wait with it until you are confident that that big hit you need it for is yours.
The Scientist only affects times after it is bought. Any research that is ongoing during that time is not affected since its completion time was locked in when you paid for it. But on the good side any research paid for while the scientist was still active will get that bonus for its entire build, even after he is dismissed. So if your techs are still in the levels of less than a full week to complete then do the shortest ones while it is active. If you save the longest research (like Warp upgrades) until the very last minute before before he is dismissed you get the most use out of him. If all of your research times are longer than 1 week then just buy the scientist for one week only. You do not have to buy the 30 day one. You only need him there to launch the research his bonus will locked in.
All the commanders and items that affect the timing of something act in this manner. They only affect timers that start AFTER they go active. But any timer started before they deactivate gets to keep their bonus. Each ship/defense in the queue has its time locked in when it hits the build bar. So the first one finished after an expiration of item/commander is the last one with the bonus. The next one will be back to normal time even if it was part of the same stack.
And again, items that modify your AWS are set at the time of battle and not when the fleet is launched.
Reward Tiers
Tier 1 Rewards: Players with 0-100RSP
Icon
Name
Description
   Duration   
Arcane Conductor
Boosts productivity of all mines and refineries by 25% on activated planet.
24 Hours
Basic Ore Catalyst
Boosts productivity of Ore Mine by 25% on a single planet.
24 Hours
Basic Crystal Catalyst
Boosts productivity or Crystal Mine by 25% on a single planet.
24 Hours
Basic Hydrogen Catalyst
Boosts productivity of Hydrogen Refinery by 25% on a single planet.
24 Hours
Ore Pack
Player gains 100 Ore on activated planet.
N/A
Ore Pack
Player gains 500 Ore on activated planet.
N/A
Ore Pack
Player gains 5000 Ore on activated planet.
N/A
Crystal Pack
Player gains 100 Crystal on activated planet.
N/A
Crystal Pack
Player gains 500 Crystal on activated planet.
N/A
Crystal Pack
Player gains 5000 Crystal on activated planet.
N/A
Hydrogen Pack
Player gains 100 Hydrogen on activated planet.
N/A
Hydrogen Pack
Player gains 500 Hydrogen on activated planet.
N/A
Hydrogen Pack
Player gains 5000 Hydrogen on activated planet.
N/A
Trade Merchant
Player gains one-time use of Trade Merchant on activated planet.
N/A
Admiral
Player gains effects of Admiral when activated.
Increases your maximum Fleets by 1.
1 Week
Scientist
Player gains effects of Scientist when activated.
Reduces the time it takes to research anything by 25%.
1 Week
Tactician
Player gains effects of Tactician when activated.
Causes your missions to yield 25% more resources.
1 Week
Operations Specialist
Player gains effects if Operations Specialist when activated.
Unlocks premium missions and provides oracle immunity while running all missions.
1 Week
Small Token Pack
Player receives 1 Lucky Draw Tokens when activated
N/A
Medium Token Pack
Player receives 3 Lucky Draw Tokens when activated
N/A
Large Token Pack
Player receives 5 Lucky Draw Tokens when activated
N/A
1x Artemis
Player gains 1 Artemis Fighter on active planet.
N/A
3x Artemis
Player gains 3 Artemis Fighter on active planet.
N/A
5x Artemis
Player gains 5 Artemis Fighter on active planet.
N/A
1x Helios
Player gains 1 Helios Satellite on active planet.
N/A
3x Helios
Player gains 3 Helios Satellite on active planet.
N/A
5x Helios
Player gains 5 Helios Satellite on active planet.
N/A
1x Atlas
Player gains 1 Atlas Cargo on active planet.
N/A
3x Atlas
Player gains 3 Atlas Cargo on active planet.
N/A
5x Atlas
Player gains 5 Atlas Cargo on active planet.
N/A
Mine Droid
Player gains 1 Mine Droid on active planet.
N/A
1x Missile Battery
Player gains 1 Missile Battery on active planet.
N/A
3x Missile Battery
Player gains 3 Missile Battery on active planet.
N/A
5x Missile Battery
Player gains 5 Missile Battery on active planet.
N/A
1x Laser Cannon
Player gains 1 Laser Cannon on active planet.
N/A
3x Laser Cannon
Player gains 3 Laser Cannon on active planet.
N/A
5x Laser Cannon
Player gains 5 Laser Cannon on active planet.
N/A
Basic Android
Player gains 1 Basic Android on active planet.
N/A
Ship Synergist
Player produces ships at a 25% faster rate on all planets.
24 Hours
Defense Synergist
Player produces defenses at a 25% faster rate on all planets.
24 Hours
Cargo Magnus
All Cargo Ships hold 25% more resources.
24 Hours
Tier 2 Rewards: Players with 101-500RSP
Icon
Name
Description
   Duration   
1x Shadow Probe
One-time use cloaked Probe that yields perfect information
with 100% success rate, while hiding the actual Espionage attempt from the target.
One Probe necessary per Espionage attempt. Probe destroys itself after its use.
N/A
3x Shadow Probe
One-time use cloaked Probe that yields perfect information
with 100% success rate, while hiding the actual Espionage attempt from the target.
One Probe necessary per Espionage attempt. Probe destroys itself after its use.
N/A
1x Genesis Satellite
Satellite that generates solar energy. 70% chance of being rebuilt for free if destroyed.
N/A
3x Genesis Satellite
Satellite that generates solar energy. 70% chance of being rebuilt for free if destroyed.
N/A
Arcane Conductor
Boosts productivity of all mines and refineries by 25% on activated planet.
24 Hours
Basic Ore Catalyst
Boosts productivity of Ore Mine by 25% on a single planet.
24 Hours
Basic Crystal Catalyst
Boosts productivity or Crystal Mine by 25% on a single planet.
24 Hours
Basic Hydrogen Catalyst
Boosts productivity of Hydrogen Refinery by 25% on a single planet.
24 Hours
Advanced Ore Catalyst
Boosts productivity of Ore Mines by 25% on all planets.
24 Hours
Advanced Crystal Catalyst
Boosts productivity of Crystal Mines by 25% on all planets.
24 Hours
Advanced Hydrogen Catalyst
Boosts productivity of Hydrogen Refineries by 25% on all planets.
24 Hours
Neutrality Marker
Player cannot attack or be attacked for duration.
Effect can be stacked to extend period of neutrality.
24 Hours
Ore Pack
Player gains 200 Ore on activated planet.
N/A
Ore Pack
Player gains 1000 Ore on activated planet.
N/A
Ore Pack
Player gains 10000 Ore on activated planet.
N/A
Crystal Pack
Player gains 200 Crystal on activated planet.
N/A
Crystal Pack
Player gains 1000 Crystal on activated planet.
N/A
Crystal Pack
Player gains 10000 Crystal on activated planet.
N/A
Hydrogen Pack
Player gains 200 Hydrogen on activated planet.
N/A
Hydrogen Pack
Player gains 1000 Hydrogen on activated planet.
N/A
Hydrogen Pack
Player gains 10000 Hydrogen on activated planet.
N/A
Trade Merchant
Player gains one-time use of Trade Merchant on activated planet.
N/A
Admiral
Player gains effects of Admiral when activated.
Increases your maximum Fleets by 1.
1 Week
Scientist
Player gains effects of Scientist when activated.
Reduces the time it takes to research anything by 25%.
1 Week
Spymaster
Player gains effects of Spymaster when activated.
Gives you 2 extra levels of Espionage Technology.
1 Week
Tactician
Player gains effects of Tactician when activated.
Causes your missions to yield 25% more resources.
1 Week
Operations Specialist
Player gains effects if Operations Specialist when activated.
Unlocks premium missions and provides oracle immunity while running all missions.
1 Week
Small Token Pack
Player receives 1 Lucky Draw Tokens when activated
N/A
Medium Token Pack
Player receives 3 Lucky Draw Tokens when activated
N/A
Large Token Pack
Player receives 5 Lucky Draw Tokens when activated
N/A
1x Artemis
Player gains 1 Artemis Fighter on active planet.
N/A
3x Artemis
Player gains 3 Artemis Fighter on active planet.
N/A
5x Artemis
Player gains 5 Artemis Fighter on active planet.
N/A
1x Apollo
Player gains 1 Apollo Fighter on active planet.
N/A
3x Apollo
Player gains 3 Apollo Fighter on active planet.
N/A
5x Apollo
Player gains 5 Apollo Fighter on active planet.
N/A
1x Hermes
Player gains 1 Hermes Probe on active planet.
N/A
3x Hermes
Player gains 3 Hermes Probe on active planet.
N/A
5x Hermes
Player gains 5 Hermes Probe on active planet.
N/A
1x Helios
Player gains 1 Helios Satellite on active planet.
N/A
3x Helios
Player gains 3 Helios Satellite on active planet.
N/A
5x Helios
Player gains 5 Helios Satellite on active planet.
N/A
1x Atlas
Player gains 1 Atlas Cargo on active planet.
N/A
3x Atlas
Player gains 3 Atlas Cargo on active planet.
N/A
5x Atlas
Player gains 5 Atlas Cargo on active planet.
N/A
Mine Droid
Player gains 1 Mine Droid on active planet.
N/A
Crew Droid
Player gains 1 Crew Droid on active planet.
N/A
1x Missile Battery
Player gains 1 Missile Battery on active planet.
N/A
3x Missile Battery
Player gains 3 Missile Battery on active planet.
N/A
5x Missile Battery
Player gains 5 Missile Battery on active planet.
N/A
1x Laser Cannon
Player gains 1 Laser Cannon on active planet.
N/A
3x Laser Cannon
Player gains 3 Laser Cannon on active planet.
N/A
5x Laser Cannon
Player gains 5 Laser Cannon on active planet.
N/A
1x Pulse Cannon
Player gains 1 Pulse Cannon on active planet.
N/A
3x Pulse Cannon
Player gains 3 Pulse Cannon on active planet.
N/A
5x Pulse Cannon
Player gains 5 Pulse Cannon on active planet.
N/A
Basic Android
Player gains 1 Basic Android on active planet.
N/A
Ship Synergist
Player produces ships at a 25% faster rate on all planets.
24 Hours
Defense Synergist
Player produces defenses at a 25% faster rate on all planets.
24 Hours
Cargo Magnus
All Cargo Ships hold 25% more resources.
24 Hours
Armor Amp
Player gains temporary +1 to Armor Tech level on all planets.
Tech will reset to previous level at end of duration.
24 Hours
Weapon Amp
Player gains temporary +1 to Weapon Tech level on all planets.
Tech will reset to previous level at end of duration.
24 Hours
Shield Amp
Player gains temporary +1 to Shield Tech level on all planets.
Tech will reset to previous level at end of duration.
24 Hours
Jet Augment
Player gains temporary +1 to Jet Drive Tech level on all planets.
Tech will reset to previous level at end of duration.
24 Hours
Tier 3 Rewards: Players with 501-1,500RSP
Icon
Name
Description
   Duration   
1x Shadow Probe
One-time use cloaked Probe that yields perfect information
with 100% success rate, while hiding the actual Espionage attempt from the target.
One Probe necessary per Espionage attempt. Probe destroys itself after its use.
N/A
3x Shadow Probe
One-time use cloaked Probe that yields perfect information
with 100% success rate, while hiding the actual Espionage attempt from the target.
One Probe necessary per Espionage attempt. Probe destroys itself after its use.
N/A
1x Genesis Satellite
Satellite that generates solar energy. 70% chance of being rebuilt for free if destroyed.
N/A
3x Genesis Satellite
Satellite that generates solar energy. 70% chance of being rebuilt for free if destroyed.
N/A
Arcane Conductor
Boosts productivity of all mines and refineries by 25% on activated planet.
24 Hours
Basic Ore Catalyst
Boosts productivity of Ore Mine by 25% on a single planet.
24 Hours
Basic Crystal Catalyst
Boosts productivity or Crystal Mine by 25% on a single planet.
24 Hours
Basic Hydrogen Catalyst
Boosts productivity of Hydrogen Refinery by 25% on a single planet.
24 Hours
Advanced Ore Catalyst
Boosts productivity of Ore Mines by 25% on all planets.
24 Hours
Advanced Crystal Catalyst
Boosts productivity of Crystal Mines by 25% on all planets.
24 Hours
Advanced Hydrogen Catalyst
Boosts productivity of Hydrogen Refineries by 25% on all planets.
24 Hours
Neutrality Marker
Player cannot attack or be attacked for duration.
Effect can be stacked to extend period of neutrality.
24 Hours
Ore Pack
Player gains 500 Ore on activated planet.
N/A
Ore Pack
Player gains 2500 Ore on activated planet.
N/A
Ore Pack
Player gains 25000 Ore on activated planet.
N/A
Crystal Pack
Player gains 500 Crystal on activated planet.
N/A
Crystal Pack
Player gains 2500 Crystal on activated planet.
N/A
Crystal Pack
Player gains 25000 Crystal on activated planet.
N/A
Hydrogen Pack
Player gains 500 Hydrogen on activated planet.
N/A
Hydrogen Pack
Player gains 2500 Hydrogen on activated planet.
N/A
Hydrogen Pack
Player gains 25000 Hydrogen on activated planet.
N/A
Trade Merchant
Player gains one-time use of Trade Merchant on activated planet.
N/A
Engineer
Player gains effects of Engineer when activated.
Power plants produce an extra 10% energy
and defensive losses in combat reduced by half (from 30% to 15%).
1 Week
Admiral
Player gains effects of Admiral when activated.
Increases your maximum Fleets by 1.
1 Week
Geologist
Player gains effects of Geologist when activated.
Increases your mine production by 10% on every planet.
1 Week
Scientist
Player gains effects of Scientist when activated.
Reduces the time it takes to research anything by 25%.
1 Week
Spymaster
Player gains effects of Spymaster when activated.
Gives you 2 extra levels of Espionage Technology.
1 Week
Tactician
Player gains effects of Tactician when activated.
Causes your missions to yield 25% more resources.
1 Week
Planet Surveyor
Player gains effects of Planet Surveyor when activated.
Increases fields of a new colony created from a Gaia by 25, up to a max of 320.
1 Week
Operations Specialist
Player gains effects if Operations Specialist when activated.
Unlocks premium missions and provides oracle immunity while running all missions.
1 Week
Small Token Pack
Player receives 1 Lucky Draw Tokens when activated
N/A
Medium Token Pack
Player receives 3 Lucky Draw Tokens when activated
N/A
Large Token Pack
Player receives 5 Lucky Draw Tokens when activated
N/A
1x Artemis
Player gains 1 Artemis Fighter on active planet.
N/A
3x Artemis
Player gains 3 Artemis Fighter on active planet.
N/A
5x Artemis
Player gains 5 Artemis Fighter on active planet.
N/A
1x Apollo
Player gains 1 Apollo Fighter on active planet.
N/A
3x Apollo
Player gains 3 Apollo Fighter on active planet.
N/A
5x Apollo
Player gains 5 Apollo Fighter on active planet.
N/A
1x Hermes
Player gains 1 Hermes Probe on active planet.
N/A
3x Hermes
Player gains 3 Hermes Probe on active planet.
N/A
5x Hermes
Player gains 5 Hermes Probe on active planet.
N/A
1x Helios
Player gains 1 Helios Satellite on active planet.
N/A
3x Helios
Player gains 3 Helios Satellite on active planet.
N/A
5x Helios
Player gains 5 Helios Satellite on active planet.
N/A
1x Atlas
Player gains 1 Atlas Cargo on active planet.
N/A
3x Atlas
Player gains 3 Atlas Cargo on active planet.
N/A
5x Atlas
Player gains 5 Atlas Cargo on active planet.
N/A
1x Hercules
Player gains 1 Hercules Cargo on active planet.
N/A
3x Hercules
Player gains 3 Hercules Cargo on active planet.
N/A
5x Hercules
Player gains 5 Hercules Cargo on active planet.
N/A
1x Dionysus
Player gains 1 Dionysus Recycler on active planet.
N/A
3x Dionysus
Player gains 3 Dionysus Recycler on active planet.
N/A
5x Dionysus
Player gains 5 Dionysus Recycler on active planet.
N/A
Mine Droid
Player gains 1 Mine Droid on active planet.
N/A
Crew Droid
Player gains 1 Crew Droid on active planet.
N/A
Build Droid
Player gains 1 Build Droid on active planet.
N/A
1x Missile Battery
Player gains 1 Missile Battery on active planet.
N/A
3x Missile Battery
Player gains 3 Missile Battery on active planet.
N/A
5x Missile Battery
Player gains 5 Missile Battery on active planet.
N/A
1x Laser Cannon
Player gains 1 Laser Cannon on active planet.
N/A
3x Laser Cannon
Player gains 3 Laser Cannon on active planet.
N/A
5x Laser Cannon
Player gains 5 Laser Cannon on active planet.
N/A
1x Pulse Cannon
Player gains 1 Pulse Cannon on active planet.
N/A
3x Pulse Cannon
Player gains 3 Pulse Cannon on active planet.
N/A
5x Pulse Cannon
Player gains 5 Pulse Cannon on active planet.
N/A
1x Particle Cannon
Player gains 1 Particle Cannon on active planet.
N/A
3x Particle Cannon
Player gains 3 Particle Cannon on active planet.
N/A
5x Particle Cannon
Player gains 5 Particle Cannon on active planet.
N/A
Basic Android
Player gains 1 Basic Android on active planet.
N/A
Terraform Planet
Allows player to Terraform once on active planet.
N/A
Ship Synergist
Player produces ships at a 25% faster rate on all planets.
24 Hours
Defense Synergist
Player produces defenses at a 25% faster rate on all planets.
24 Hours
Cargo Magnus
All Cargo Ships hold 25% more resources.
24 Hours
Recycler Magnus
All Dionysus Recyclers hold 25% more resources.
24 Hours
Armor Amp
Player gains temporary +1 to Armor Tech level on all planets.
Tech will reset to previous level at end of duration.
24 Hours
Weapon Amp
Player gains temporary +1 to Weapon Tech level on all planets.
Tech will reset to previous level at end of duration.
24 Hours
Shield Amp
Player gains temporary +1 to Shield Tech level on all planets.
Tech will reset to previous level at end of duration.
24 Hours
Jet Augment
Player gains temporary +1 to Jet Drive Tech level on all planets.
Tech will reset to previous level at end of duration.
24 Hours
Pulse Augment
Player gains temporary +1 to Pulse Drive Tech level on all planets.
Tech will reset to previous level at end of duration.
24 Hours
Tier 4 Rewards: Players with 1,501-15,000RSP
Icon
Name
Description
   Duration   
1x Shadow Probe
One-time use cloaked Probe that yields perfect information
with 100% success rate, while hiding the actual Espionage attempt from the target.
One Probe necessary per Espionage attempt. Probe destroys itself after its use.
N/A
3x Shadow Probe
One-time use cloaked Probe that yields perfect information
with 100% success rate, while hiding the actual Espionage attempt from the target.
One Probe necessary per Espionage attempt. Probe destroys itself after its use.
N/A
1x Genesis Satellite
Satellite that generates solar energy. 70% chance of being rebuilt for free if destroyed.
N/A
3x Genesis Satellite
Satellite that generates solar energy. 70% chance of being rebuilt for free if destroyed.
N/A
Arcane Conductor
Boosts productivity of all mines and refineries by 25% on activated planet.
24 Hours
Basic Ore Catalyst
Boosts productivity of Ore Mine by 25% on a single planet.
24 Hours
Basic Crystal Catalyst
Boosts productivity or Crystal Mine by 25% on a single planet.
24 Hours
Basic Hydrogen Catalyst
Boosts productivity of Hydrogen Refinery by 25% on a single planet.
24 Hours
Advanced Ore Catalyst
Boosts productivity of Ore Mines by 25% on all planets.
24 Hours
Advanced Crystal Catalyst
Boosts productivity of Crystal Mines by 25% on all planets.
24 Hours
Advanced Hydrogen Catalyst
Boosts productivity of Hydrogen Refineries by 25% on all planets.
24 Hours
Neutrality Marker
Player cannot attack or be attacked for duration.
Effect can be stacked to extend period of neutrality.
24 Hours
Ore Pack
Player gains 2000 Ore on activated planet.
N/A
Ore Pack
Player gains 10000 Ore on activated planet.
N/A
Ore Pack
Player gains 100000 Ore on activated planet.
N/A
Crystal Pack
Player gains 2000 Crystal on activated planet.
N/A
Crystal Pack
Player gains 10000 Crystal on activated planet.
N/A
Crystal Pack
Player gains 100000 Crystal on activated planet.
N/A
Hydrogen Pack
Player gains 2000 Hydrogen on activated planet.
N/A
Hydrogen Pack
Player gains 10000 Hydrogen on activated planet.
N/A
Hydrogen Pack
Player gains 100000 Hydrogen on activated planet.
N/A
Trade Merchant
Player gains one-time use of Trade Merchant on activated planet.
N/A
Engineer
Player gains effects of Engineer when activated.
Power plants produce an extra 10% energy
and defensive losses in combat reduced by half (from 30% to 15%).
1 Week
Admiral
Player gains effects of Admiral when activated.
Increases your maximum Fleets by 1.
1 Week
Geologist
Player gains effects of Geologist when activated.
Increases your mine production by 10% on every planet.
1 Week
Scientist
Player gains effects of Scientist when activated.
Reduces the time it takes to research anything by 25%.
1 Week
Spymaster
Player gains effects of Spymaster when activated.
Gives you 2 extra levels of Espionage Technology.
1 Week
Tactician
Player gains effects of Tactician when activated.
Causes your missions to yield 25% more resources.
1 Week
Propulsion Mechanic
Player gains effects of Propulsion Mechanic when activated.
Reduces base hydrogen cost for fleet tasks by approximately 10%.
1 Week
Planet Surveyor
Player gains effects of Planet Surveyor when activated.
Increases fields of a new colony created from a Gaia by 25, up to a max of 320.
1 Week
Operations Specialist
Player gains effects if Operations Specialist when activated.
Unlocks premium missions and provides oracle immunity while running all missions.
1 Week
Small Token Pack
Player receives 1 Lucky Draw Tokens when activated
N/A
Medium Token Pack
Player receives 3 Lucky Draw Tokens when activated
N/A
Large Token Pack
Player receives 5 Lucky Draw Tokens when activated
N/A
1x Artemis
Player gains 1 Artemis Fighter on active planet.
N/A
3x Artemis
Player gains 3 Artemis Fighter on active planet.
N/A
5x Artemis
Player gains 5 Artemis Fighter on active planet.
N/A
1x Apollo
Player gains 1 Apollo Fighter on active planet.
N/A
3x Apollo
Player gains 3 Apollo Fighter on active planet.
N/A
5x Apollo
Player gains 5 Apollo Fighter on active planet.
N/A
1x Hermes
Player gains 1 Hermes Probe on active planet.
N/A
3x Hermes
Player gains 3 Hermes Probe on active planet.
N/A
5x Hermes
Player gains 5 Hermes Probe on active planet.
N/A
1x Helios
Player gains 1 Helios Satellite on active planet.
N/A
3x Helios
Player gains 3 Helios Satellite on active planet.
N/A
5x Helios
Player gains 5 Helios Satellite on active planet.
N/A
1x Atlas
Player gains 1 Atlas Cargo on active planet.
N/A
3x Atlas
Player gains 3 Atlas Cargo on active planet.
N/A
5x Atlas
Player gains 5 Atlas Cargo on active planet.
N/A
1x Hercules
Player gains 1 Hercules Cargo on active planet.
N/A
3x Hercules
Player gains 3 Hercules Cargo on active planet.
N/A
5x Hercules
Player gains 5 Hercules Cargo on active planet.
N/A
1x Dionysus
Player gains 1 Dionysus Recycler on active planet.
N/A
3x Dionysus
Player gains 3 Dionysus Recycler on active planet.
N/A
5x Dionysus
Player gains 5 Dionysus Recycler on active planet.
N/A
1x Charon
Player gains 1 Charon Transport on active planet.
N/A
1x Poseidon
Player gains 1 Poseidon Cruiser on active planet.
N/A
3x Poseidon
Player gains 3 Poseidon Cruiser on active planet.
N/A
5x Poseidon
Player gains 5 Poseidon Cruiser on active planet.
N/A
1x Athena
Player gains 1 Athena Battleship on active planet.
N/A
3x Athena
Player gains 3 Athena Battleship on active planet.
N/A
5x Athena
Player gains 5 Athena Battleship on active planet.
N/A
Mine Droid
Player gains 1 Mine Droid on active planet.
N/A
Crew Droid
Player gains 1 Crew Droid on active planet.
N/A
Build Droid
Player gains 1 Build Droid on active planet.
N/A
Lab Droid
Player gains 1 Lab Droid on active planet.
N/A
1x Missile Battery
Player gains 1 Missile Battery on active planet.
N/A
3x Missile Battery
Player gains 3 Missile Battery on active planet.
N/A
5x Missile Battery
Player gains 5 Missile Battery on active planet.
N/A
1x Laser Cannon
Player gains 1 Laser Cannon on active planet.
N/A
3x Laser Cannon
Player gains 3 Laser Cannon on active planet.
N/A
5x Laser Cannon
Player gains 5 Laser Cannon on active planet.
N/A
1x Pulse Cannon
Player gains 1 Pulse Cannon on active planet.
N/A
3x Pulse Cannon
Player gains 3 Pulse Cannon on active planet.
N/A
5x Pulse Cannon
Player gains 5 Pulse Cannon on active planet.
N/A
1x Particle Cannon
Player gains 1 Particle Cannon on active planet.
N/A
3x Particle Cannon
Player gains 3 Particle Cannon on active planet.
N/A
5x Particle Cannon
Player gains 5 Particle Cannon on active planet.
N/A
1x Gauss Cannon
Player gains 1 Gauss Cannon on active planet.
N/A
3x Gauss Cannon
Player gains 3 Gauss Cannon on active planet.
N/A
5x Gauss Cannon
Player gains 5 Gauss Cannon on active planet.
N/A
Basic Android
Player gains 1 Basic Android on active planet.
N/A
Terraform Planet
Allows player to Terraform once on active planet.
N/A
Ship Synergist
Player produces ships at a 25% faster rate on all planets.
24 Hours
Defense Synergist
Player produces defenses at a 25% faster rate on all planets.
24 Hours
Cargo Magnus
All Cargo Ships hold 25% more resources.
24 Hours
Recycler Magnus
All Dionysus Recyclers hold 25% more resources.
24 Hours
Armor Amp
Player gains temporary +1 to Armor Tech level on all planets.
Tech will reset to previous level at end of duration.
24 Hours
Weapon Amp
Player gains temporary +1 to Weapon Tech level on all planets.
Tech will reset to previous level at end of duration.
24 Hours
Shield Amp
Player gains temporary +1 to Shield Tech level on all planets.
Tech will reset to previous level at end of duration.
24 Hours
Jet Augment
Player gains temporary +1 to Jet Drive Tech level on all planets.
Tech will reset to previous level at end of duration.
24 Hours
Pulse Augment
Player gains temporary +1 to Pulse Drive Tech level on all planets.
Tech will reset to previous level at end of duration.
24 Hours
Tier 5 Rewards: Players with 15,000+RSP
Icon
Name
Description
   Duration   
1x Shadow Probe
One-time use cloaked Probe that yields perfect information
with 100% success rate, while hiding the actual Espionage attempt from the target.
One Probe necessary per Espionage attempt. Probe destroys itself after its use.
N/A
3x Shadow Probe
One-time use cloaked Probe that yields perfect information
with 100% success rate, while hiding the actual Espionage attempt from the target.
One Probe necessary per Espionage attempt. Probe destroys itself after its use.
N/A
1x Genesis Satellite
Satellite that generates solar energy. 70% chance of being rebuilt for free if destroyed.
N/A
3x Genesis Satellite
Satellite that generates solar energy. 70% chance of being rebuilt for free if destroyed.
N/A
Arcane Conductor
Boosts productivity of all mines and refineries by 25% on activated planet.
24 Hours
Basic Ore Catalyst
Boosts productivity of Ore Mine by 25% on a single planet.
24 Hours
Basic Crystal Catalyst
Boosts productivity or Crystal Mine by 25% on a single planet.
24 Hours
Basic Hydrogen Catalyst
Boosts productivity of Hydrogen Refinery by 25% on a single planet.
24 Hours
Advanced Ore Catalyst
Boosts productivity of Ore Mines by 25% on all planets.
24 Hours
Advanced Crystal Catalyst
Boosts productivity of Crystal Mines by 25% on all planets.
24 Hours
Advanced Hydrogen Catalyst
Boosts productivity of Hydrogen Refineries by 25% on all planets.
24 Hours
Neutrality Marker
Player cannot attack or be attacked for duration.
Effect can be stacked to extend period of neutrality.
24 Hours
Ore Pack
Player gains 4000 Ore on activated planet.
N/A
Ore Pack
Player gains 20000 Ore on activated planet.
N/A
Ore Pack
Player gains 200000 Ore on activated planet.
N/A
Crystal Pack
Player gains 4000 Crystal on activated planet.
N/A
Crystal Pack
Player gains 20000 Crystal on activated planet.
N/A
Crystal Pack
Player gains 200000 Crystal on activated planet.
N/A
Hydrogen Pack
Player gains 4000 Hydrogen on activated planet.
N/A
Hydrogen Pack
Player gains 20000 Hydrogen on activated planet.
N/A
Hydrogen Pack
Player gains 200000 Hydrogen on activated planet.
N/A
Trade Merchant
Player gains one-time use of Trade Merchant on activated planet.
N/A
Engineer
Player gains effects of Engineer when activated.
Power plants produce an extra 10% energy
and defensive losses in combat reduced by half (from 30% to 15%).
1 Week
Admiral
Player gains effects of Admiral when activated.
Increases your maximum Fleets by 1.
1 Week
Geologist
Player gains effects of Geologist when activated.
Increases your mine production by 10% on every planet.
1 Week
Scientist
Player gains effects of Scientist when activated.
Reduces the time it takes to research anything by 25%.
1 Week
Spymaster
Player gains effects of Spymaster when activated.
Gives you 2 extra levels of Espionage Technology.
1 Week
Tactician
Player gains effects of Tactician when activated.
Causes your missions to yield 25% more resources.
1 Week
Propulsion Mechanic
Player gains effects of Propulsion Mechanic when activated.
Reduces base hydrogen cost for fleet tasks by approximately 10%.
1 Week
Lunar Architect
Player gains effects of Lunar Architect when activated.
This commander doubles the chance of a moon forming around your current planet.
1 Week
Planet Surveyor
Player gains effects of Planet Surveyor when activated.
Increases fields of a new colony created from a Gaia by 25, up to a max of 320.
1 Week
Operations Specialist
Player gains effects if Operations Specialist when activated.
Unlocks premium missions and provides oracle immunity while running all missions.
1 Week
Small Token Pack
Player receives 1 Lucky Draw Tokens when activated
N/A
Medium Token Pack
Player receives 3 Lucky Draw Tokens when activated
N/A
Large Token Pack
Player receives 5 Lucky Draw Tokens when activated
N/A
1x Artemis
Player gains 1 Artemis Fighter on active planet.
N/A
3x Artemis
Player gains 3 Artemis Fighter on active planet.
N/A
5x Artemis
Player gains 5 Artemis Fighter on active planet.
N/A
1x Apollo
Player gains 1 Apollo Fighter on active planet.
N/A
3x Apollo
Player gains 3 Apollo Fighter on active planet.
N/A
5x Apollo
Player gains 5 Apollo Fighter on active planet.
N/A
1x Hermes
Player gains 1 Hermes Probe on active planet.
N/A
3x Hermes
Player gains 3 Hermes Probe on active planet.
N/A
5x Hermes
Player gains 5 Hermes Probe on active planet.
N/A
1x Helios
Player gains 1 Helios Satellite on active planet.
N/A
3x Helios
Player gains 3 Helios Satellite on active planet.
N/A
5x Helios
Player gains 5 Helios Satellite on active planet.
N/A
1x Atlas
Player gains 1 Atlas Cargo on active planet.
N/A
3x Atlas
Player gains 3 Atlas Cargo on active planet.
N/A
5x Atlas
Player gains 5 Atlas Cargo on active planet.
N/A
1x Hercules
Player gains 1 Hercules Cargo on active planet.
N/A
3x Hercules
Player gains 3 Hercules Cargo on active planet.
N/A
5x Hercules
Player gains 5 Hercules Cargo on active planet.
N/A
1x Dionysus
Player gains 1 Dionysus Recycler on active planet.
N/A
3x Dionysus
Player gains 3 Dionysus Recycler on active planet.
N/A
5x Dionysus
Player gains 5 Dionysus Recycler on active planet.
N/A
1x Charon
Player gains 1 Charon Transport on active planet.
N/A
1x Poseidon
Player gains 1 Poseidon Cruiser on active planet.
N/A
3x Poseidon
Player gains 3 Poseidon Cruiser on active planet.
N/A
5x Poseidon
Player gains 5 Poseidon Cruiser on active planet.
N/A
1x Athena
Player gains 1 Athena Battleship on active planet.
N/A
3x Athena
Player gains 3 Athena Battleship on active planet.
N/A
5x Athena
Player gains 5 Athena Battleship on active planet.
N/A
1x Ares
Player gains 1 Ares Bomber on active planet.
N/A
3x Ares
Player gains 3 Ares Bomber on active planet.
N/A
5x Ares
Player gains 5 Ares Bomber on active planet.
N/A
1x Hades
Player gains 1 Hades Battleship on active planet.
N/A
3x Hades
Player gains 3 Hades Battleship on active planet.
N/A
5x Hades
Player gains 5 Hades Battleship on active planet.
N/A
1x Prometheus
Player gains 1 Prometheus Destroyer on active planet.
N/A
3x Prometheus
Player gains 3 Prometheus Destroyer on active planet.
N/A
5x Prometheus
Player gains 5 Prometheus Destroyer on active planet.
N/A
Mine Droid
Player gains 1 Mine Droid on active planet.
N/A
Crew Droid
Player gains 1 Crew Droid on active planet.
N/A
Build Droid
Player gains 1 Build Droid on active planet.
N/A
Lab Droid
Player gains 1 Lab Droid on active planet.
N/A
1x Missile Battery
Player gains 1 Missile Battery on active planet.
N/A
3x Missile Battery
Player gains 3 Missile Battery on active planet.
N/A
5x Missile Battery
Player gains 5 Missile Battery on active planet.
N/A
1x Laser Cannon
Player gains 1 Laser Cannon on active planet.
N/A
3x Laser Cannon
Player gains 3 Laser Cannon on active planet.
N/A
5x Laser Cannon
Player gains 5 Laser Cannon on active planet.
N/A
1x Pulse Cannon
Player gains 1 Pulse Cannon on active planet.
N/A
3x Pulse Cannon
Player gains 3 Pulse Cannon on active planet.
N/A
5x Pulse Cannon
Player gains 5 Pulse Cannon on active planet.
N/A
1x Particle Cannon
Player gains 1 Particle Cannon on active planet.
N/A
3x Particle Cannon
Player gains 3 Particle Cannon on active planet.
N/A
5x Particle Cannon
Player gains 5 Particle Cannon on active planet.
N/A
1x Gauss Cannon
Player gains 1 Gauss Cannon on active planet.
N/A
3x Gauss Cannon
Player gains 3 Gauss Cannon on active planet.
N/A
5x Gauss Cannon
Player gains 5 Gauss Cannon on active planet.
N/A
1x Plasma Cannon
Player gains 1 Plasma Cannon on active planet.
N/A
3x Plasma Cannon
Player gains 3 Plasma Cannon on active planet.
N/A
5x Plasma Cannon
Player gains 5 Plasma Cannon on active planet.
N/A
Basic Android
Player gains 1 Basic Android on active planet.
N/A
Terraform Planet
Allows player to Terraform once on active planet.
N/A
Ship Synergist
Player produces ships at a 25% faster rate on all planets.
24 Hours
Defense Synergist
Player produces defenses at a 25% faster rate on all planets.
24 Hours
Cargo Magnus
All Cargo Ships hold 25% more resources.
24 Hours
Recycler Magnus
All Dionysus Recyclers hold 25% more resources.
24 Hours
Armor Amp
Player gains temporary +1 to Armor Tech level on all planets.
Tech will reset to previous level at end of duration.
24 Hours
Weapon Amp
Player gains temporary +1 to Weapon Tech level on all planets.
Tech will reset to previous level at end of duration.
24 Hours
Shield Amp
Player gains temporary +1 to Shield Tech level on all planets.
Tech will reset to previous level at end of duration.
24 Hours
Jet Augment
Player gains temporary +1 to Jet Drive Tech level on all planets.
Tech will reset to previous level at end of duration.
24 Hours
Pulse Augment
Player gains temporary +1 to Pulse Drive Tech level on all planets.
Tech will reset to previous level at end of duration.
24 Hours
Warp Augment
Player gains temporary +1 to Warp Drive Tech level on all planets.
Tech will reset to previous level at end of duration.
24 Hours